Culture, Art, Technology – Seminar 22.09.21
BK3186 Culture, Art, Technology 1 (2021 HØST)
from the materiality of media into their role as witness/evidence in investigations…
Artistic Investigations: Cultural economies, data, surveillance & ecologies of value.
Shu Lea Cheang
3x3x6 – Venice Biennale 2019
"We live in a society where (the) surveillance camera is everywhere. We live in a society where data is our biggest prison. We live in a data panopticon today"

Shu Lea Cheang
This is not the first time Taiwan has staged its Venice Biennale offering in the highly charged setting of the Palazzo delle Prigioni – a medieval prison adjacent to the Palazzo Ducale in Piazza San Marco, which was used as a place of interrogation and incarceration until 1922. But there can be few, if any, previous artists who have used the architecture and heritage of the building to such powerful effect. Shu Lea Cheang's four room installation, 3x3x6, is an exploration of sexual transgressions over the centuries and the transformation of surveillance technology from the physical architecture of a cell or prison to the digital architecture that now monitors all of us, all the time, thanks to 3D facial recognition, AI and the internet. The title of the work refers to the 3×3 sq metre dimensions of today's typical prison cell, and its monitoring by six cameras.
Source: Studio International Venice Biennale 2019 video interview
For Taiwan's collateral presentation at Venice Biennale 2019, with the history of the exhibition venue in mind, Cheang creates a new work named 3x3x6 in reference to today's standardized architecture of industrial imprisonment: a 9-square-meter prison cell constantly monitored by six cameras. Related to ten cases of imprisonment due to gender, sexual, and racial nonconformity, both past and present, 3x3x6 questions the legal and visual regimes that have formed sexual and gender norms over time. Specifically, Cheang's exhibition looks to the conditions of nonphysical yet increasingly omnipresent imprisonment in this new digital age.
"With this exhibition we explore the possible strategies for resistance against highly controlled societies, the self-affirming dignity against repression, and the variable versions of self-granted pursuits for (un)happiness."

ShuLea Cheang
3x3x6 spans four rooms of the Prigioni with an immersive, multidimensional installation. Departing from the architecture of the panopticon invented by Jeremy Bentham in the late eighteenth century, Cheang constructs the exhibition around a rotating and inverted surveillance tower: a 3-D camera surveillance system. From the moment the visitor elects to enter the exhibition they become implicated within the system—their faces are scanned and their image later modified. Here, gender and racial morphing become queer digital strategies to disrupt the tradition of colonial and anthropometric identification techniques. Connected to the Internet, 3x3x6 in turn allows visitors to send selfies and images to the exhibition system. The exhibition visitors are thus inside the total surveillance apparatus.
3x3x6 Ten Cases, Ten Films
Cheang has also developed 10 short trans punk fiction films. To produce these digital videos, Cheang conducted research on ten case studies. Making use of legal documents and historical reports as well as metaphors, fake news, myths, and fantasies, Cheang short-circuits linear time and brings into the conversation characters from different eras and cultures. Normative notions of gender, race, and sexual identity are also challenged—the actors have attributes that differ greatly from the characters and so question preconceived biases and existing conventions.
At the end of the exhibition visitors are directed into a control room where imagery and data converge. By revealing the mechanisms behind the work, Cheang asks us to examine the distance between surveillance and desire—when an individual experiences pleasure and voluntarily participates in observing another, are they not too being exposed to surveillance?
Source: Taiwan in Venice
---
Laura Poitras
Neuer Berliner Kunstverein (n.b.k.) June – August 2021
In collaboration with Forensic Architecture and Sean Vegezzi
Curator: Marius Babias

Neuer Berliner Kunstverein (n.b.k.) presents the first European solo exhibition by artist and filmmaker Laura Poitras. Her works expose state power by focusing on specific individuals confronting it. Circles includes prints from the ANARCHIST series (2016) – drone and satellite images hacked by the USA – and premieres two new video installations. Terror Contagion (2021) is an ongoing investigation by research agency Forensic Architecture and an accompanying film by Poitras. The work investigates Israeli cyber-weapons manufacturer NSO Group and the use of its Pegasus malware to target journalists and human rights defenders worldwide.
Edgelands (2021), a collaboration with artist Sean Vegezzi, examines obscured nodes of New York City's violent carceral and policing infrastructure: a 191-meter prison ship, and a covert surveillance unit to monitor political activity in the city.
Together, the works in the exhibition expose how surveillance intersects with physical violence and psychological terror.
As of September 2021, there are 3 chapters of Edgelands:
Edgelands: TARU – a covert surveillance unit that monitors political activity in the city.
Edgelands: VCBC – a 191-meter prison ship in the East River,
Edgelands: Hart Island – a burial site that was maintained by prisoners of the Rikers Island jail.
Livestream: Artists talk
Friday, June 18, 2021, 7 pm

With Laura Poitras (artist), Eyal Weizman (director, Forensic Architecture), Shourideh Molavi (lead researcher, Forensic Architecture), and Sean Vegezzi (artist), moderated by Heba Y. Amin (artist, professor at Staatliche Akademie der Bildenden Künste Stuttgart).
From June 18 – August 8, 2021, Neuer Berliner Kunstverein (n.b.k.) presents Circles, the first European solo exhibition by artist and filmmaker Laura Poitras. Her works expose state power by focusing on specific individuals confronting it.
Among other things, the exhibition premieres two new video installations:
Terror Contagion (2021–ongoing) an investigation by research agency Forensic Architecture and an accompanying film by Poitras. The work is an in-depth investigation of Israeli cyber-weapons manufacturer NSO Group and the use of its Pegasus malware to target journalists and human rights defenders worldwide. In Terror Contagion (2021), Poitras documents Forensic Architecture's ongoing investigation into NSO and interviews journalists and human rights defenders targeted with NSO software.
Edgelands (2021), a collaboration with artist Sean Vegezzi, in which Poitras and Vegezzi continue their explorations of how state apparatuses exert control over civilian life. Beginning in 2020, Poitras and Vegezzi began examining deliberately obscured sites of police, surveillance and carceral infrastructure in New York City, including a covert surveillance unit to monitor political activity in the city, and a giant prison ship off the coast of the South Bronx in the city's East River, on which a medical crisis is unfolding.
During a livestream, Laura Poitras, Eyal Weizman, Shourideh Molavi, and Sean Vegezzi talk with host Heba Y. Amin about the works in the exhibition, the ubiquity of surveillance systems and the way they shape the material infrastructure of our world, and how surveillance intersects with physical violence and psychological terror.
The work of Laura Poitras (born 1964 in Boston, lives in New York and Berlin) has deep connections to Berlin. In 2006, her film about the U.S. occupation of Iraq, My Country, My Country, premiered at the Berlinale. Shortly after, the U.S. government placed Poitras on a terrorist watch list: for the next six years she was interrogated every time she crossed the U.S. border. In 2012, she relocated to Berlin to protect her sources, and was contacted by then-anonymous NSA whistleblower Edward Snowden. The resulting film, CITIZENFOUR (2014), won an Academy Award and a German Film Prize. Her reporting on the NSA received a Pulitzer Prize and led to a German Parliamentary investigation into NSA mass surveillance in Germany.
Source: NBK Gallery & Press Release
---
Louis Cyprien
untitled (Mogadishu, Somalia – 2019) – vidéo 7'30"
Mogadishu video was born of the artist's desire to visit one of the most beautiful beaches in the world in one of the world's most dangerous countries. The Mogadishu region with its deserted paradise beaches of fine white sand is an economic paradox in the eyes of our leisure-based societies and a hell-on-earth for its inhabitants. Somalia is a crucible of human violence and testing ground of permanent war, ravaged for the past thirty years by civil war and more recently by the terrorist depredations of Al-Shabab. The French foreign ministry formally warns French citizens against travel to Somalia owing to the "extremely high risk of terrorist attacks, kidnapping, and homicide."
Louis-Cyprien Rials' video work has garnered a great deal of visibility in recent years, not least thanks to its elliptical and suggestive – in the noble, non-sensational sense of the term – character: his films, all of which address violence, are anything but exhibitionist. They evoke rather than explain or demonstrate, and invite one to uncover and assimilate. Essentially, they are an invitation to exercise one's intelligence.
Unseen, Rials films the unimaginable lurking beneath apparently peaceful landscapes: scenes of desolation, everyday urban landscapes and buildings severed from their original purpose and history. His films are punctuated by a rhythm and/or soundtrack that renders the unseen at the very least disturbing, and sometimes immediately unbearable. When one scratches at the surface of the disturbing and queries what pushed the artist to film such everyday scenes, one comes into contact with the unbearable.
Louis-Cyprien Rials' work favours landscapes that figure on no map in countries that remain unnamed: these are places and lands whose very existence is denied by the international community, places that have been ravaged by such atrocities and exactions that only ruins, ashes and desolation remain. Using the filter of landscape, Rials seeks to evoke the peregrinations of humanity. He is no reporter, however, since while he's constantly seeking for evidence, his work features neither witness testimony nor any form of analysis of the catastrophes he observes; the invitation instead is to investigate the causes outside the framework of his films.
Source: Galerie Eric Mouchet, Loop Barcelona 2019
Taus Makhacheva
BAIDA
In the hope of a good catch local fishermen sail far out into the Caspian Sea before disappearing into the horizon. These "invisible" boats sail into a grey zone – a state of being present and at the same time impossible to locate.
The fishermen say that in an emergency it is not their death that they dread but the fact that their families would cherish hopes of their survival even if they never returned to shore.
In the event that a boat capsizes the fishermen tie themselves to the prow that remains floating above the surface of the water as a buoy. This enables their families to find their bodies and mourn their passing. The stories of these people who reconciled themselves to death and are able to speak about it with coldness and detachment lie at the core of the Baida (name of the Dagestan fishing boat) work.
The work was premiered at the 57th Venice Biennale. The label said that the performance is held daily for the duration of the exhibition in the Adriatic Sea at the following coordinates: 45°23'30.8″N 12°24'47.7″E. In the course of the performance, in the open water several performers would appear and disappear on a capsized boat which was transported from Dagestan.
Production supported by Gazprombank and "Art Finance" LLC, Moscow.
narrative projects is pleased to present BaidÀ [1] a second solo exhibition by Taus Makhacheva at the gallery. The exhibition developed from research the artist conducted when visiting different fishermen living in the Starii Terek village in Dagestan and working in the Caspian Sea, and her later investigations into fine art restoration and preservation techniques. When having conversations with the fishermen, Makhacheva noticed a recurrent motif in their stories: the risk of being lost at sea and never being found. The work is a comment on the precarity of human life and the struggle to survive against overwhelming economic and natural forces. The artist looked at these stories through a prism of her own experience of the art world, which resulted in Baida [2] (2017), a video/performance work scripted by performance-maker Tim Etchells and commissioned by the 57th Venice Biennale.
[1] Russian slang for a not entirely believable, nonsense story.
[2] A fishing vessel, a self-made wooden boat with one or several outboard motors. Since the 1990s, it has spread to the northern Caspian for poaching sturgeon.
57th International Art Exhibition | La Biennale di Venezia, Viva Arte Viva, 13 May 2017 – 26 November 2017
"Conversation in a boat"

The artist Taus Makhacheva talks with Malika Aliyeva, the manager of Taus Makhacheva's studio and producer of the work Baida.
Taus: Let's remember how we filmed, why we filmed and what we filmed. Tell me what the work began with as you see it.
Malika: I think that for me the work began with the meeting with Shamil Fiksa, when I was brought face to face with the theme of survival. When you are told what it's like for someone without food or drink, to be in the water for 9 days in a storm, you really do start to think how you would behave and I am not at all sure that I would have fought. Perhaps I would have just let myself go and that would be that.
What do you think?
T: Yes. I think that that was specifically what struck me in the whole business. You and me, we live in a completely different reality, where tenacity manifests itself, if indeed it does, in a whole other way. And when you come across people who spend 30 days in a small boat that was simply squeezed between the ice floes as they formed like Abakar, or when you talk one to one with a person who spent those nine days without hope in the water, you get a different perspective on your own life. You simply begin to think about what motivates you in everyday existence. Probably it's that conscious attitude to risk, the awareness of the risk, awareness of the danger that you face every day because of the way of life that you have chosen. That is probably what struck me from the outset on that trip when we travelled with Makhad to the island of Chechen.
When you are working on some product, flashes like that appear that you then come back to time and again, and you realize that you need to work with that because you can't forget it. You try to think up a work because you can't forget a phrase, can't forget a gesture, can't forget a story you've been told. In this case it was the story that Makhad told about the fishermen tying themselves to the bow of the capsized boat that kept afloat because of the empty barrels. If the boat overturned in a storm, the motor would drag it down, but the bow would remain on the surface and the fishermen clutched onto that. And when they had no strength to hold on, they tied themselves on, either so as not to drown if they went crazy or else so their relatives could find their bodies and give them a funeral. That's a story you simply can't forget.
M: Yes. That was the most striking thing on that trip. I also remember about Maga – Maga Kamysh, I think his name was – who was taken prisoner in Kazakhstan and held captive there, but he escaped.
T: It was that Maga Kamysh who we went to Novy Chechen to look for. That, by the way, is the start of another amazing story. He was captured by the Kazahstan shore, where the sturgeon are more abundant, by the local poachers, who made him work for them. Each time when he went out to work on their nets, he poured off a small amount of petrol into a bottle and tied it to the nets. And when he had stocked up enough fuel, he used the boat to get away from them. I don't remember exactly, but I think he was a captive for a few years. And you and I went to look for him and people told us: "That's right. He's the very Maga who was kept prisoner." They say things like that all the time there. My student Olya Sizoi from GITIS (the Russian Institute of Theatre Arts) did a project for which she was looking for a Magomed whose wife had recently given birth to a son and who drives a black Lada Priora (popular Russian car brand). But that applies to every second man in Daghestan. And so she compiled a portrait of one and at the same time several Magas.
But it seems to me that it was a different story about Kamysh: about some fisherman getting marooned and surviving because he ate reeds (kamysh). But I can't remember exactly.
M: It's interest that during our first trip no-one would tell us real-life stories, they wouldn't open up to us, except they happened to let it slip about Fiksa. Because some young girl artists had turned up and for them everything should be straightforward and nice.
T: I think it's a question of the way they're used to seeing things. What seems amazing to us is a commonplace story to them.
I was very upset by the existence of one and the same attitude to those places. Nowhere did anyone write about the risk, about the fact that people put out to sea each time, knowing that thy might not come back. And perhaps it would be important not only to tell about them being "bio-terrorists", as the mass media put it.
Listen, thinking back to the filming, what do you think was the most difficult thing about the shooting process?
M: I remembered how we looked for the first boat. We decided to do some more takes, went out to look for it and couldn't find it. It was then that I clearly grasped that if we can't find a nine-metre boat in a small patch of sea, what hope is there of finding a little human being. It seems simply unrealistic.
T: On the other hand, perhaps now we'll have faith and not give up if such a situation occurs.
M: You know, what I took away is that people are brought together by responsibility for someone else. Shamil was kept going by the fact that he had a young lad in his care, Abakar had his son and another youngster with him. And I realize that often that's what keeps me going too. The fact that there's someone else as well.
T: Perhaps you're right, because I remember Abakar's words: "How could I not bring a son back to his mother?"
In point of fact, everything somehow came together. That story about the fisherman that prompted the filming, then the water itself around Venice, the works of Forensic Oceanography that I watched. For example, The Left-to-Die Boat from 2014, where a boat carrying 63 migrants was not saved because countries argued over whose jurisdiction it was in.
And also the poetry of Warsan Shire, which includes the line "I thought the sea was safer than the land". Thoughts in which you connect our everyday reality with that of other people. I again remember a passage from her poetry where she asks how people can be so haughty and think that does not concern them.
This is all cyclical: in the Second World War refugees from Europe arrived in Africa, while today refugees from Arab countries are arriving in Europe. Such a profane matter as the perception of art is also of significance: you see so many works about death, about the sea, about people drowning, and you think how can I make my work significant, avoid it being simply speculation.
I pondered that for the whole year while you and I were travelling around. That is why it seems to me that we travelled through those doubts. We met with people so as to resolve our doubts, and as a result a work like that appeared. And it is a very strange work, because I grasped that it was impossible to do a real-life performance, impossible to bring those fishermen there. You can make an announcement-label that says a performance is taking place every day in the waters of the Adriatic. In those same waters where the government of European countries is refusing to rescue boats carrying people.
Something is happening that does not concern us at all, that is too far off for us, the visitors of the Venice Biennale, to sail to.
Although the boat sank in the Caspian, in actual fact it's all one and the same expanse of water, where there are many invisible boats – and many invisible people.
When I was at Chioggia, not far from Venice, at the fish market, I spoke with one of the stall-holders. He showed me his boat – the Vittoria Manuela II – on the GPS in his phone, the pinpointed location where it was just then. The visibility of some boats and the invisibility of others puts you in some kind of shock and stupor. You realize that there are several seas around us. Several seas, several oceans, several expanses of water, where some boats are totally visible, and others are an illusion. They are completely invisible.
And it seems to me that the form of this work – the text written by Tim Etchells in London on the basis of 70 pages of interviews that we took with various fishermen; the voices of the actors who recorded the text in London; my work with Sasha Khokhlov, when we put the sound onto the video that we shot in Daghestan in the Caspian, and all of that pretends to be a fictitious film shoot of arty people trying to find a performance in Venice. That is the only possible form of work about these invisible boats, invisible people. It is the only form that could combine within it those doubts, that uncertainty, visibility-invisibility, everything on which we spent almost a year of thinking and research.
M: I look back on the filming process and it's amazing the way people from a different reality believed in us, although they might not have fully understood us.
T: Yes, they believed that we were trying to do something outside of the bounds of the representation that they are used to. That's probably why they worked with us, not without some persuasion, admittedly. There were some lone fishermen, some from a base, from here and there. And they all came together.
Yet there was a lot of resistance in the work. I often think of the resistance that accompanied the filming. What does it mean? Do we need to overcome it or change direction? In the end we sank two boats. One was lost, because they didn't anchor it and it floated away. We sank the second after the first got found.
M: There was that dreadful fog as well, in which we lost Artyom in the boat because he had dropped his phone in the water during the first shoot. I remember the morning of the second shoot, when you had to either accept that you hadn't managed it or else see everything through to the end. Either untie yourself from the boat and drown or keep on going.
T: Maybe. I was very scared. Everyone was saying, "No, come back in a week's time… No, we won't manage to pull a second boat today." I had already brought all my secret weapons into play. Everyone was already worked up. I don't know, maybe that is what it means to see something through. Oh well, history will tell.
Source: Gazprombank Corporate Art Collection
---
The Missing CryptoQueen
Dr Ruja Ignatova persuaded millions to join her financial revolution. Then she disappeared. Why? Jamie Bartlett presents a story of greed, deceit and herd madness.
---
RYBN talk art, algorithmic investment and offshore tourism at Dark Havens
Tax Haven Tourism + Algorithmic Investment + Psychogeography + Art as Financial Optimiser + #DNL15
RYBN walk us through the Offshore Tour Operator to explore local traces of the transnational and liquid financial industry, and introduce classic tax avoidance schemes the Double Irish, Singapore Sling, Bermuda Black hole and Dutch Sandwich. A situationist GPS prototype for psychogeographic drift encouraging you to create concrete visual representation of the opaque and offshore, thus reshaping the imaginary around tax havens.
The Great Offshore addresses the question of representation of offshore finance: due to its opaque nature and the secrecy that surrounds it, it is impossible to picture. The symbolic representations that are usually in use are, as many invitations to evasion, filled by colonial images of exotic islands, of palm trees beaches and golden sands, infinite walls of numbered mailboxes, that contribute to the aestheticisation of financial power. In a similar fashion, as Alain Deneault underlines it, the vocabulary in use to describe offshore finance is not neutral, and produces a positive, technical, legal and legitimate picture, that neutralizes critics.
As a consequence, either within semantics or semiotics, we face a representation crisis. To overcome this representation failure, The Great Offshore project seeks for traces of this transnational and liquid financial industry, to capture how it marks local landscapes, architectures and environments. The Great Offshore project aims to reshape the imaginary around tax havens, by re-engaging with the situationist strategies of psycho-geography, enhanced by digital and algorithmic means. During the talk, RYBN unfold the different chapters that composed the project and its artistic, semiotic and political dimensions.
Offshore Tour Operator directs you through addresses from the ICIJ Offshore Leaks database to discover the premises of businesses listed in the Offshore Leaks, Bahamas Leaks, Panama Papers, and Paradise Papers. Photographs of buildings listed at each address capture the offshore economies in the local landscape, architecture and environments.
Offshore Tour Operator is a situationist GPS prototype, orientated toward a computer assisted psychogeographic drift, that dictates the walk of the user through the ICIJ Offshore Leaks database addresses – including the Offshore Leaks, the Bahamas Leaks, the Panama Papers, the Paradise Papers. The prototype exists in two versions : a DIY open hardware version, using a raspberry pi 0 coupled to a GPS, and an android app.
ALGOFFSHORE TAX OPTIMIZER THROUGH ART is a system that generates tax optimization schemes, using art as a speculative vehicle. Taking advantage of every possible offshoring strategy to compute a personalised solution for any interested art collector, the user can customise the optimisation scheme with personalised parameters and dedicated algorithms.
+ Workshop / Psycho-Geographic Tour of Berlin shell companies & shadow finance offices with RYBN.org.
What is psychogeography? :: an exploration of urban environments that emphasizes playfulness and "drifting," originating with the Situationist International movement. Psychogeography was defined in 1955 by Guy Debord as "the study of the precise laws and specific effects of the geographical environment, consciously organized or not, on the emotions and behavior of individuals." It has also been defined as "a total dissolution of boundaries between art and life," and "a whole toy box full of playful, inventive strategies for exploring cities… just about anything that takes pedestrians off their predictable paths and jolts them into a new awareness of the urban landscape.
Psychogeography, as the term suggests, is the intersection of psychology and geography. It focuses on our psychological experiences of the city, and reveals or illuminates forgotten, discarded, or marginalised aspects of the urban environment:
The transition of a space from one use to another undergirds much of psychogeography's preoccupation; the notion of a palimpsest – an object or piece of writing with new material superimposed over earlier writings – is particularly important. Psychogeography thrives as an interrogation of space and history; it compels us to abandon – at least temporarily – our ordinary conceptions of the face value of a location, so that we may question its mercurial history.
Siobhan Lyons The Conversation 2017
DARK HAVENS
Confronting Hidden Money & Power
#DNL15 DARK HAVENS brings together people from around the world who have been part of global investigations and leaks, have blown the whistle on corporations, been put on trial, and who have taken severe personal risks to confront hidden money and power.
15th conference of the Disruption Network Lab. Curated by Tatiana Bazzichelli. In cooperation with Transparency International.
Disruption Network Lab: Dark Havens
Twitter: @disruptberlin
---
ReImagine Europe
Tatiana Bazzichelli and Lieke Ploeger of Disruption Network Lab explain how their vision of 'examining the intersection of politics, technology, and society, to expose the misconduct and wrongdoing of the powerful', is achieved through bringing together communities of trust in highly focused conferences and meet-ups. In this interview with Jodi Rose they also discuss the strategies they use to organise and curate community events, and reflect on how these could be adapted and used to bring about change worldwide.
Jodi Rose: What's the most surprising thing you've learned?
Lieke Ploeger:
You always wonder who is going to show up and what their background is. We even had a retired police officer in the audience at one meet-up. I'm interested in knowing who are the people who find us, come back, and ask questions in the conference.
Tatiana Bazzichelli:
To give visibility and support to people who are doing critical work is really important. Brandon Bryant, a former drone operator in the United States Air Force who turned whistleblower, was speaking at Disruption Network Lab in front of a large public about the Drone War in 2015. It was very important for me to meet him, because it completely changed my perspective. I wouldn't have met him twenty years ago when I was involved in Italian activism, because we were in different circuits. I would have considered him the enemy. Meeting him and hearing about his whistleblowing experience helped me to shape the future direction of the programme.
I learned about the impact of changing opinion, and about the value of connecting people who work on social justice and whistleblowing in very different fields and levels.The boundaries that separate us are almost non-existent.
We can connect with people from different backgrounds and have a common mission. Meeting Brandon Bryant made me understand how important whistleblowers are as people who decide to act within their systems. They are really able to re-orient what is happening in society. What they do comes with great personal risk and a possibly a huge devastating impact on their life. They suffer isolation, persecution but at the same time they provide a wonderful change of mind. This encounter with the unexpected still inspires how we work at Disruption Network Lab.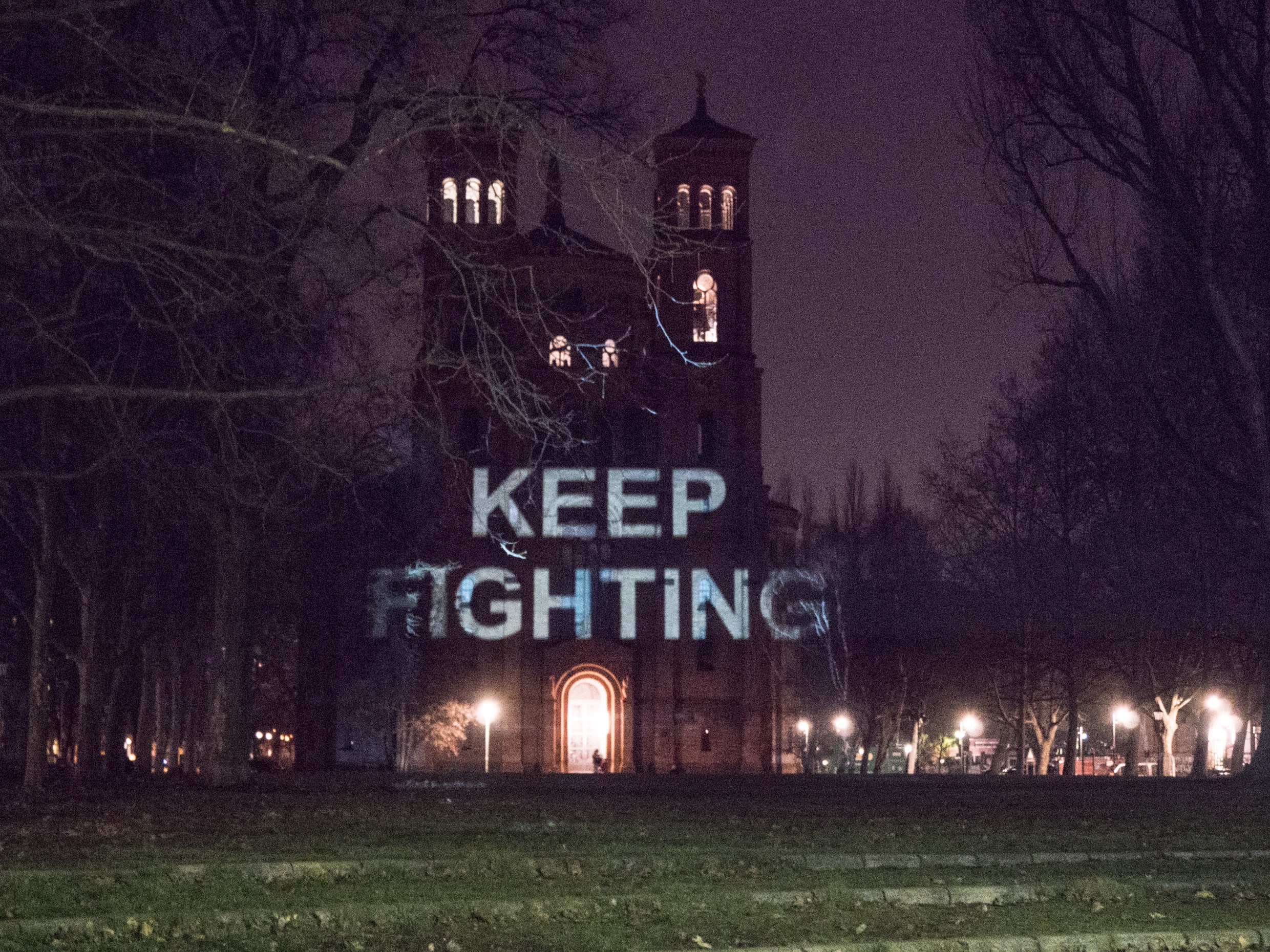 This article is part of the Re-Imagine Europe publication. The publication collects articles, essays, interviews and reports about audience engagement for interdisciplinary arts organisations. It aims to share knowledge gained throughout the Re-Imagine Europe project with professionals in the cultural sector who would like to gain a deeper insight in audience development and capacity building.
Springerin: Issue 3/2021
Climate catastrophe and digitalization. Leaving aside the pandemic, which continues to shape all realms of life, these two issues are probably among the most pressing topics today. The recently published report from the Intergovernmental Panel on Climate Change (IPCC) demonstrates clearly – and scientifically – that there is no longer any way to avoid the climate emergency. The question is simply what can still be done effectively by whom to avert the worst-case scenario. For some time now there have been a wealth of artistic proposals on that front – in fact, it almost appears that the climate catastrophe has also irrevocably hit contemporary art over the past year.
However thematic trends are often short-lived – or shaped by the periods in which they unfold, as a look at digitalization and its influence on the art scene reveals. While the digital realm was once the disruptive new factor that sparked invention of its own specific artistic genres (electronic art, post-internet art, etc.), it has now become a kind of latent backdrop to art production. Hard as it is to imagine contemporary creation without it, its cutting-edge character has been almost entirely eroded when it comes to tackling artistic concerns per se. Nowadays, the technological aspect often appears more progressive than art itself, and on many fronts one finds oneself longing for a corrective to this skewed relationship.
But let's return to the digital and ecological dimensions: on the one hand, an advanced technology whose environmentally detrimental downside was long underexamined; on the other, discourse about an object that is far too large by human standards (the "hyper-object" of the climate), which might perhaps be better managed with the help of the digital sphere. In other words: on one side, a powerful cultural force that until recently had scant interest in ideas of sustainability and securing survival; on the other hand, an often technology-skeptical struggle to convey the big picture – the more-than-just-human interconnection between all life-forms, irrespective of their environments. In that struggle the digital, as the spawn of the beautiful, smart immaterial dimension, was always a little suspect. Ecology and big tech? That sounds a bit like trying to force two long-standing antipodes to come together.
It long seemed that there was scarcely any connection between the increasingly technological thrust of information and communication media and the question of how long a stable ecological balance can be maintained. It was likewise also long the case that barely any attention was paid to the connection between artistic means of production (and reception) and consumption of natural resources. That is currently beginning to change, thanks at least in part to the many artists who consciously and reflectively incorporate ecological questions into their work. In addition, in the worlds of business and culture, the more profound and/or longer term ramifications of day-to-day utilization of the digital sphere are also becoming increasingly apparent in environmental terms. In addition, speculation has now emerged as to whether artificial intelligence, if judiciously deployed, might possibly generate greater ecological sustainability than solutions dreamt up by human beings (that are usually immediately abandoned or impossible to implement).
Roberto Simanowski speculates along those lines and asks whether in this respect the idea of a "benevolent dictator" would not logically need to gain ground – with all the contradictions and anticipated objections this implies. An "eco-AI" that would need to adopt a superhuman perspective to save the world is also the premise explored in James Lovelock's latest book about the Novacene. The inventor of the Gaia theory takes the view that only the hyperintelligence currently emerging would be capable of keeping the planet habitable – more than good grounds to consider sketching out a digital ecology through the prism of this approach.
Maja and Reuben Fowkes engage more closely with the current art scene. Their essay surveys the field of ecologically motivated art to detect visions and points of critique vis-à-vis the digital high-tech world. A key question that is also one of the central points of reference in other essays is whether artistic "decodings" of today's promises for the future can actually also transmit decolonial or democratizing impetuses. Diedrich Diederichsen, for example, takes a novel by Thomas Pynchon as the starting point for an examination of the transformational potential inherent in cybernetics-critical approaches since the 1960s. With reference to the artistic present, Daphne Dragona looks into the ethical dimension of art that critiques ecology and digitalization – in order to focus, inter alia, on new forms of the kind of "extractivism" that has long characterized Western conquest and exploitation of the world.
Waste production is the flipside of relentless exploitation of commodities. Olga Goriunova and Matthew Fuller address this aspect in their essay, which – against the backdrop of digital culture – relates not only to the mountains of scrap that grow higher by the day, but also the general waste of time, work and energy inexorably associated with this phenomenon.
So how do digitization and sustainability actually fit together? How to reconcile, on the one hand, production that is increasingly outsourced to the digital world or is inherently rooted in that context and, on the other hand, concerns about resource scarcity, environmental issues and humankind's inexorably expanding CO2 footprint? The "Digital Ecology" issue examines the tangible potentials and implications of this nexus. Will electric sheep find themselves dealing with androids that are less environmentally destructive and will post-human subjects even have dreams about the future? This more than timely thematic issue ponders all these questions.
Sabine Maria Schmidt: It is a Forest, not a Tree. The Werkleitz Festival 2021 Traced the Contours of the "New World (Dis)Order"
Jens Bülskämper: Salvation and Hubris from the Server Room. The Exhibition Sensing Scale Explores the Influence of Planetary Networks on Our Lives
Jochen Becker: Cinema vs. Empire About Vincent Meessen's Film Juste un Mouvement (2021)
Taguhi Torosyan und Stefanie Wuschitz: Trust Must be Beautiful, or My Fair Mining? Reflections on the Crypto Movement
---
ALGOFFSHORE
ALGOFFSHORE is a series of algorithmic flowcharts that documents various strategies of offshoring and tax optimization. The algorithms are conceived on a documentary basis, from the analaysis of wellknown strategies and tries to synthetize patterns and recurrent elements that are shared between the studied strategies. Each algorithm tries to expose the unrecognized genius behind the elaborated structures conceived to avoid taxes.
ALGOFFSHORE 1 : TAX AVOIDANCE SCHEME GENERATOR is the result of a study of the classical tax optimization schemes, such as the Double Irish, the Singapore Sling, the Bermuda Black hole, the Dutch Sandwich. It tries to summarize all those techniques, and aims to automatize the creation of an optimal offshore structure, finding the best routes, in order to not pay any taxes. The ultimate goal is to obtain the most favorable and flexible fiscal conditions. The algorithm use the whole palette of offshoring tools and techniques : clause de fuite, misprincing, internal banking systems for loans to create artificial debt, etc.
ALGOFFSHORE 2 : TAX OPTIMIZER THROUGH ART is a system that generates tax optimization schemes, using art as a speculative vehicle. The algorithm takes advantage of every possible offshoring strategies to compute a personalized solution for any interested art collector. The user can customize the optimization scheme with personalized parameters.
ALGOFFSHORE 4 : CRYPTO-LAUNDERER MACHINE is a system that takes advantage of crypotcurrency specificities to anonymize and launder any inputs of crypto incomes. The model uses a tumbler to mix various inputs of cryptocurrencies from a pool to erase any traces to one's ownership, and proposes various circuits of conversion to fiat money.